>
>
>
Benefits of using spc flooring
Benefits of using spc flooring
SPC rigid vinyl flooring is quickly becoming one of the most popular trends in home flooring. Installing SPC vinyl flooring offers the following benefits to homeowners:
Waterproof: One of the biggest benefits of choosing SPC vinyl flooring is that it has a completely waterproof core. Unlike hardwood, it can be installed in areas of the home such as laundry rooms, bathrooms, basements, and kitchens. The waterproof feature also makes this board more stable in environments where moisture and temperature can fluctuate.
Fireproofing: SPC flooring has antiflaming function, 5 seconds could self-extinguish. Qualified SPC floor reaches excellent B1 of fire-prevention index; in case of accidents,zero choking harmful or poisonous gas generates
Formaldehyde free: spc flooring is 100% environmental protection floor without any hazardous substance, like heavy metal and formaldehyde. It is the best choice that the family decorates material, spcail good for baby. In the past two years, more and more families, schools, kindergartens and other places choose SPC flooring.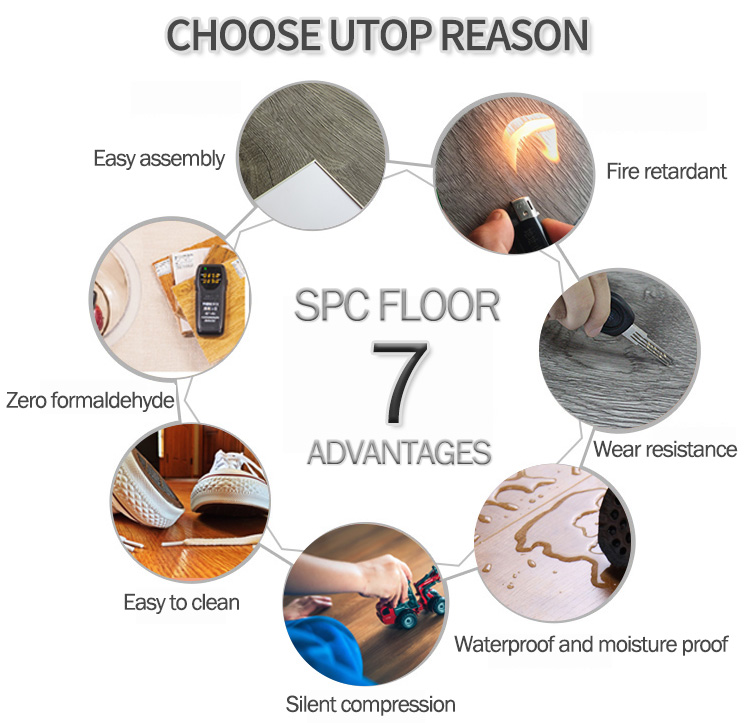 Easy installation: Many homeowners appreciate that SPC floors are easy to install. They can be placed on top of many different types of subfloors or existing flooring. Most designs simply click into place, eliminating the need for messy and complicated glues.
Affordability: While it is more expensive than standard vinyl flooring, SPC vinyl floors are generally less expensive that other types of luxury flooring, such as hardwood and stone. In addition, homeowners can often install the floors without professional assistance, so DIY installation of SPC flooring can save even more money on this upgrade.
Style: SPC vinyl flooring is like standard vinyl in that it is available in a wide range of colors and patterns. Some of the SPC flooring styles are designed to look like hardwood, tile, or other types of flooring. The wide range of options is preferable for those who want to be able to customize the look of their home.
Comfort: The thick, stable bottom layers of each plank make SPC flooring more cushioned than other types of flooring. The thicker the plank you choose, the more comfortable it will feel underfoot. These dense layers also contribute to a quieter sound when walking on SPC floors; they usually do not have a hollow or thin sound like standard vinyl often does.
Easy maintenance: SPC rigid vinyl flooring is very durable. Because it is incredibly dense, it's resistant to impacts, stains, scratches, and wear and tear. This flooring style is a great choice for busy households because in addition to holding up well, it is easy to keep clean. Maintenance involves only regular vacuuming or sweeping and occasional mopping. Over time, this type of flooring will resist fading, peeling, and cupping, and it can withstand being directly exposed to sunlight.
Get the latest price? We'll respond as soon as possible(within 12 hours)