>
>
>
Commercial SPC Vinyl Flooring
Commercial SPC Vinyl Flooring
Stone plastic composite (SPC) vinyl flooring is an excellent option for high-traffic environments due to its 100% waterproof construction and unmatched durability. SPC vinyl flooring is top of the line, thanks to its advanced four-layer flooring technology, consisting of a backing layer, SPC core, printed vinyl layer, and wear layer.
Top-notch rigid core vinyl flooring offers extremely convincing wood-look, tile-look, and stone-look options that can withstand harsh environments, all while being eye-catching. Not to mention, maintenance requires only minimal cleanup.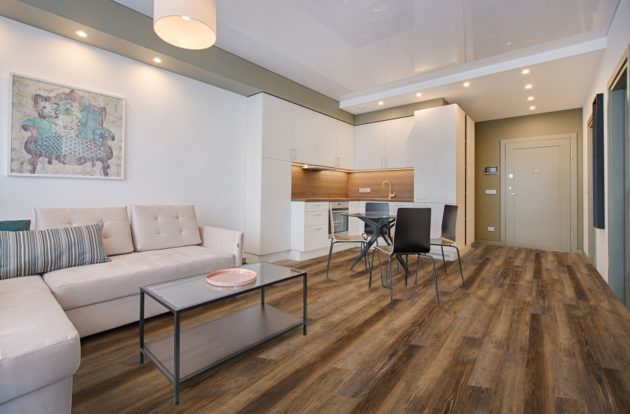 Best for: Areas that receive a lot of foot traffic, such as restaurants, medical offices, hotels, kitchens, and bathrooms.
How to Install Commerical SPC Vinyl:
Click and lock: SPC vinyl features a tongue and groove interlocking system that's user-friendly for both vinyl planks and tiles.
Pros of Commerical SPC Vinyl:
100% waterproof: SPC vinyl consists of layered construction that is 100% waterproof throughout. This is a fantastic choice for businesses worried about moisture content or water damage.
Durability: SPC vinyl's core protects against dents, while its wear layer withstands spills and scratches.
Easy installation: Installation is no hassle, with interlocking planks that snap into place.
Sound absorbent: SPC vinyl's attached underlayment absorbs sound waves very effectively.
Cons of Commerical SPC Vinyl:
Price: SPC vinyl can be more expensive than some other commercial counterparts, but with all the perks of stylish, durable, and realistic flooring, it pays off.
Comfort: It has a sturdy and rigid feel, so users may notice this flooring is slightly uncomfortable underfoot.
Get the latest price? We'll respond as soon as possible(within 12 hours)