>
>
>
Detailed Analysis of UTOP SPC Floor
Detailed Analysis of UTOP SPC Floor
SPC Floor is extruded by extruder combined with T-die to extrude PVC base material, and use three-roll or four-roll calender to separately apply PVC wear-resistant layer, PVC color film and PVC base material, one-time heating lamination and embossing The product, the process is simple, the fit is completed by heat, no glue is needed.
Thickness
Plank thickness: 3.2mm,3.5mm,4.0mm,4.5mm,5.0mm,5.5mm,6.0mm
Wear layer thickness: 0.2mm,0.3mm,0.5mm,0.7mm
IXPE underlayment: 1.0mm and 1.5mm
Structure of SPC floor:
UV layer( Doubel UV Coating), Wear layer, Decoration film layer, Base material(Rigid core) layer, IXPE underlayment layer.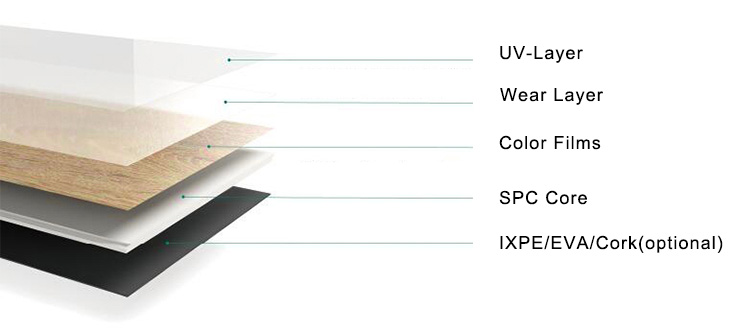 Function of each layer
UV layer: UV treatment is a way to use modified polyurethane for surface reinforcement treatment, which can prevent pollution and effectively absorb ultraviolet rays, enhance wear resistance, impact resistance, fire resistance and flame retardant, delay product aging and easy cleaning. Modified polyurethane is a non-toxic organic compound with excellent adhesion, dimensional stability and mold resistance.
Use on PVC floor can greatly enhance the stability and hardness of the floor and give the floor antibacterial effect.
Environmental protection, UV treatment mainly uses modified polyurethane, which is an environmentally friendly non-toxic organic compound. UV treatment can also delay the fading or discoloration of the ink under the sunlight, so that the floor can be colored as new even under harsh conditions.
Wear layer:The wear-resistant layer imparts important physical and chemical properties such as wear resistance, scratch resistance, cigarette burn resistance, pollution resistance, corrosion resistance, and moisture resistance to the surface of the SPC floor. It helps to protect the decoration film and prolongs the flooring service time.
Decoration film:
1. New building materials, green and environmental protection:
An excellent representative of new building materials, the product eliminates decoration pollution and is environmentally friendly.
2. Anti-fouling and color fixation, keep bright forever:
The product has the functions of hydrophilic, antifouling and self-cleaning, and plays a role of waterproof, moisture-proof and color fixing, so that the product can maintain a bright and new state of color all year round.
3. Light texture and wide application:
The product has light texture, high strength, strong toughness, strong plasticity and applicability for decoration, and is widely used in home decoration and tooling.
4. Free assembly, convenient and quick:
The adhesive on the back is peeled and pasted, which is easy to install and easy to repair and replace, meeting the wide range of individual needs of modern people.
5. Easy to clean and easy to maintain:
You can easily clean the surface dust or dirt with a vacuum cleaner, damp cotton cloth, and a duster. It is easier to clean than ordinary gypsum board and latex paint walls.
6.We UTOP have more than 200 popular colors design for customer to choose, also can do OEM and ODM for customers.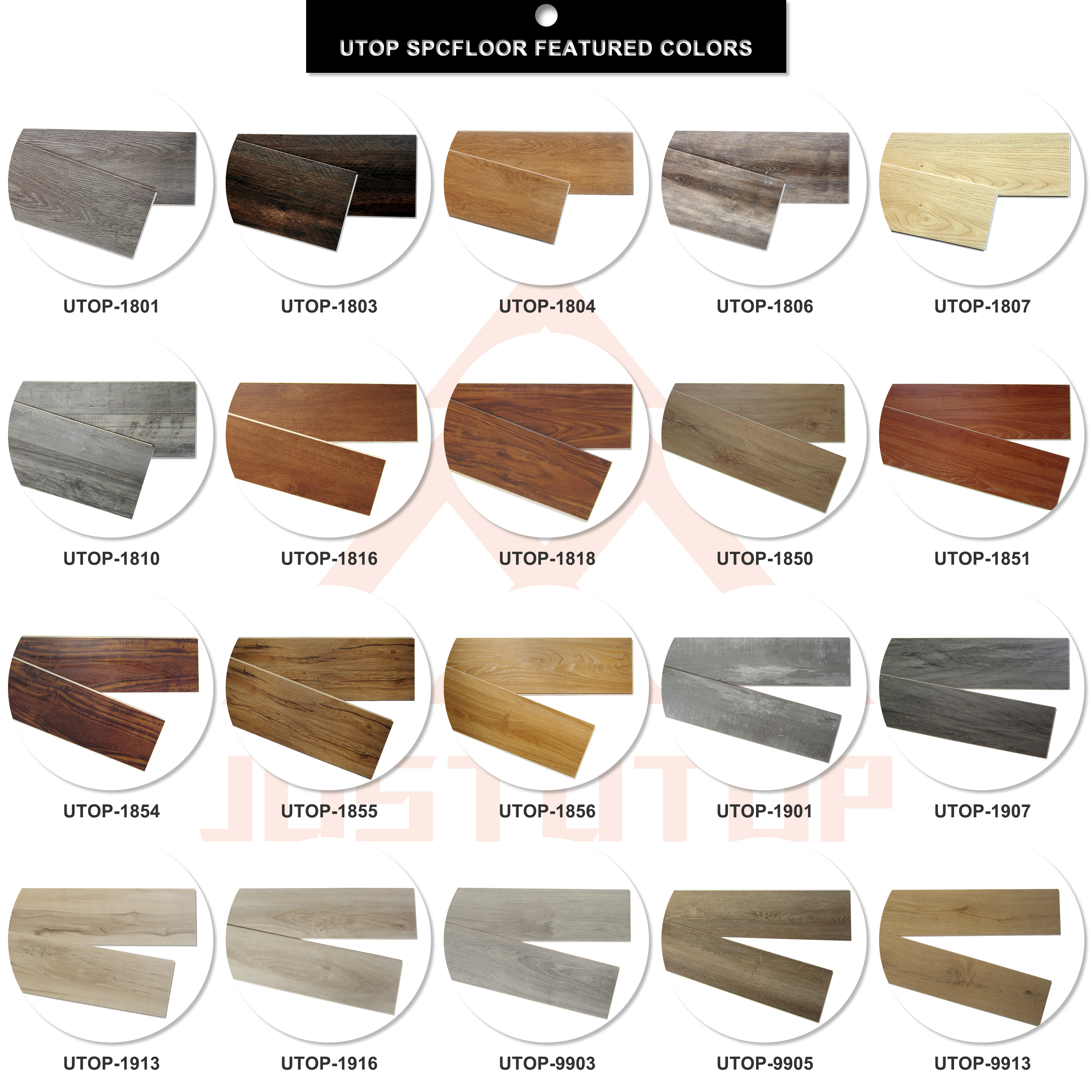 Base material:
The rigid core is consist of Calcium powder, Resin, Stablizer, PE wax,etc. The base material with high density about 1.9-2.1g/cm³. Thickness diviation:±0.05mm. UTOP adopt all 100% virgin material that guarantee the decoration space is free-formaldhyde, no heavy metal. It is completely safe and environmental building material, also can be recycle used.
Underlayment:
IXPE can provide a soft foot feel and can reduce 20dB noice. Also it works dampproof and fire retardant.
Get the latest price? We'll respond as soon as possible(within 12 hours)