>
>
>
Flooring Concerns With Pets
Flooring Concerns With Pets
If you're a pet owner, you already understand that they are a very special part of your family. But even the most well-behaved pet has the potential to cause some damage to the home. The number one concern for any homeowner is bathroom accidents and odors. Even for dogs and cats that are trained, there are numerous reasons why they might choose to use the bathroom inside the home. While this can be cleaned, it can damage floors over time.
Another concern is nails and claws against the floor, specifically with dogs. While it's always fun to play fetch, it can increase the chance of their floors. Active dogs, as well as some cats, can slip and slide, leaving marks on the floor. One way to avoid this is by trimming their nails, but choosing scratch-resistant flooring will help too. Another thing you can do is reserve playtime for outside.
An active pet can bring in dirt, dander and messes as well, which is a concern for owners who want to keep their floors as clean as possible. A regular cleaning routine can help solve some of these problems, but it can be a bigger issue with carpet.
With these factors in mind, choosing pet-friendly flooring is important for homeowners.If you're looking for the ultimate pet-proof flooring, spc flooring is the best choice. While it looks like wood flooring, it resists scratches and stains. It's easy to clean up if your pet has can accident. if you like to play with your dog inside the home, they are likely to slip and slide as they chase around the tennis ball,spc flooring can protact your pets because it is non-slip.welcome to contact us for pet-friendly spc flooring!!!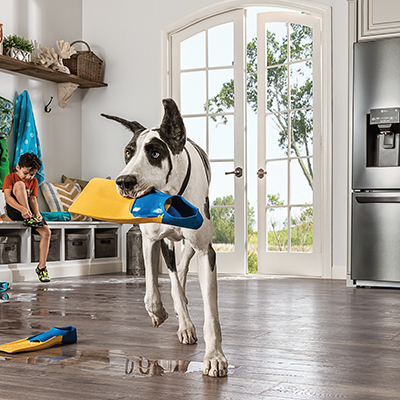 Get the latest price? We'll respond as soon as possible(within 12 hours)