>
>
>
Similarities Between WPC and SPC Flooring
Similarities Between WPC and SPC Flooring
While there are some important differences between SPC vinyl floors and WPC vinyl floors, it's important to note that they also have quite a few similarities: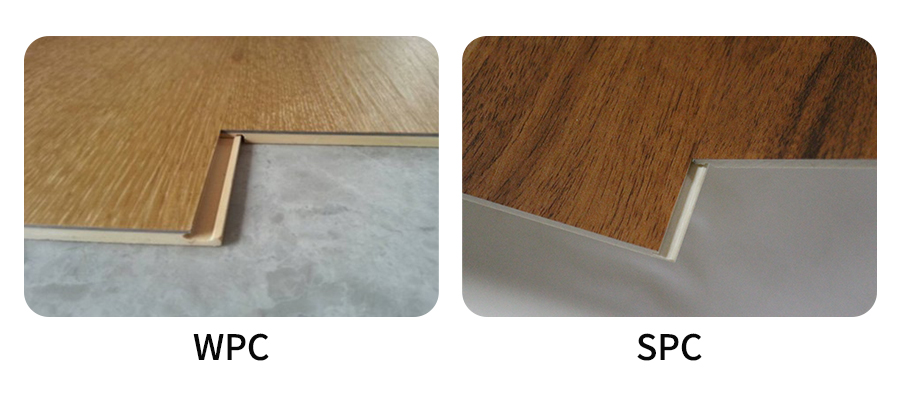 Waterproof: Both of these types of rigid core flooring feature a completely waterproof core. This helps to prevent warping when exposed to moisture. You can use both types of flooring in areas of the home where hardwood and other moisture-sensitive flooring types are not typically recommended, such as laundry rooms, basements, bathrooms, and kitchens.
Durability:While SPC floors are denser and resistant to major impacts, both flooring types are resistant to scratches and stains. They hold up well to wear and tear even in high-traffic areas of the home. If you're concerned about durability, look for planks with a thicker wear layer on top.
Easy Installation: Most homeowners are able to complete a DIY installation with either SPC or WPC flooring. They are made to be installed on top of just about any type of subfloor or existing floor. You won't have to deal with messy glues either, since the planks easily attach to one another to lock into place.
Style Options: With both SPC and WPC vinyl flooring, you'll have a huge range of style options at your fingertips. These flooring types come in just about any color and pattern, since the design is simply printed onto the vinyl layer. Many styles are made to look like other types of flooring. For example, you can get WPC or SPC flooring that looks like tile, stone, or hardwood flooring.
Get the latest price? We'll respond as soon as possible(within 12 hours)