>
>
>
SPC Vinyl Flooring Structure Analysis
SPC Vinyl Flooring Structure Analysis
The structure of spc flooring mainly include:UV coating Layer,Wear Layer,Color film layer,SPC Core,Attached Underlayment.
· UV coating Layer— The UV coating enhances the floor's anti-fouling, anti-bacterial and waterproof properties, prevents slipping to fall, and makes stain handling easier.
· Wear Layer — The wear layer is the important coating on the spc floor that is transparent. This adds scratch and stain resistance to the spc vinyl plank.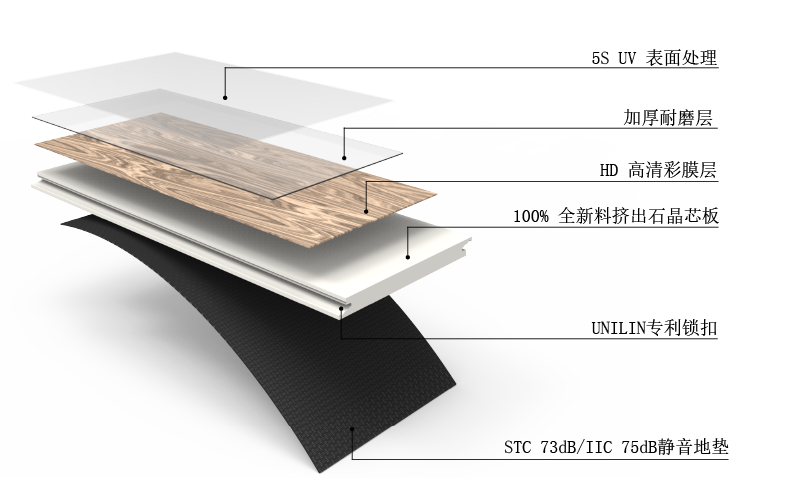 · Color film layer— The high-definition color film layer constitutes the color and texture of the spc floor, and is the layer that most intuitively reflects the color quality of the floor.
·SPC Core— The SPC core is made by Calcium carbonate and resin to create a dimensionally stable and waterproof core.
·Attached Underlayment— IXPE is a polyethylene foam material. There are two main functions: ①Improve the foot feel, and walk on the SPC stone plastic floor with silent pads to make the foot feel more comfortable. ②Noise reduction and sound absorption, suitable for public places that require quietness, such as libraries, museums, etc. The mute cushion will have the effect of shock absorption and silence.
Get the latest price? We'll respond as soon as possible(within 12 hours)