>
>
>
The difference between SPC flooring and LVT flooring
The difference between SPC flooring and LVT flooring
Recently, many clients want to order the spc flooring, but thier flooring target price is for LVT flooring. So i think, many clients are all confound the SPC and LVT flooring.
Today, we will show some difference between spc and LVT flooring.
First, the raw material is different.
Utop spc flooring are all use virgin material, calcuim powder, resin and others. Because are all use the new material, the floor back color is light and nearer white color. When the flashlight light shines, there will be light penetrate the floor. Because there is no glue added in produce process, the material is healthy and environmental friendly. When useing, there will not harmful smell and for formaldehyde out. Safe for baby and families.
LVT flooring, most LVT flooring are all use the recycle material to produce. Back color is near black color.
So in the material, we will find the cost difference when order.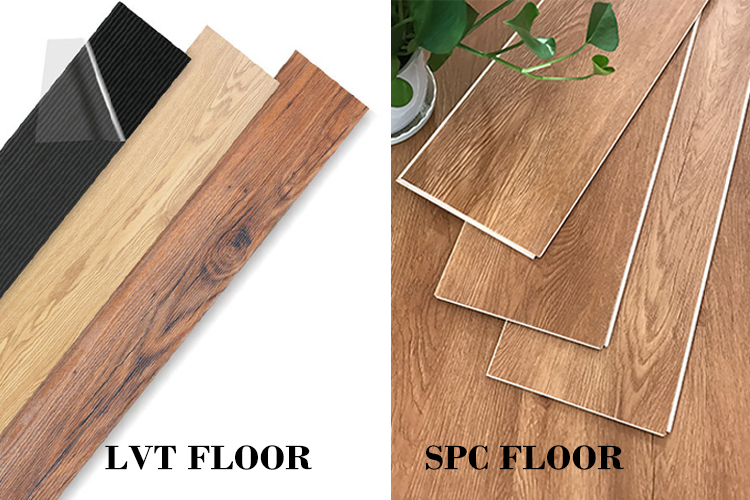 Then, The rigid structure of SPC gives it a few advantages. While both can be installed over virtually any solid subfloor, LVT needs its subfloor to be completely level, and free of any dents, obstructions, etc. The flexible material will take on the shape of any imperfections, whereas SPC will keep its own shape, regardless of the floor below it.
By the same token, SPC is also more durable, resistant to dents and other damage. It will last longer, hold up better to wear. The rigidity of SPC also allows it to provide more support underfoot, while LVT's pliability gives it a softer, more comfortable feel for walking on. SPC is also slightly thicker than LVP, and its look and texture tend to be a bit more realistic.
This is just a brief overview of the two flooring materials. There are plenty of other pros and cons of each, depending on your specific situation. So which flooring material is best for you? Talk to a flooring expert who can help you weigh the pros and cons of stone polymer composites vs. luxury vinyl planks, and decide which one best meets your home's needs and can serve you in good stead for years to come.
Get the latest price? We'll respond as soon as possible(within 12 hours)