>
>
>
The difference between the anti-flaming grade Bfl and B1 of plastic floor
The difference between the anti-flaming grade Bfl and B1 of plastic floor
The fire retardant performance of building materials is the primary indicator of the safety of life and property.
Flooring materials as one of the building materials are no exception.
The state has issued a number of standards to regulate and restrict the flame retardant performance of the "fireproof flooring materials". 
However, the flame retardant grades of rubber flooring and plastic flooring on the market are markedly confusing.
Some people even think that the Bfl level in the latest national standard GB8624-2006 is equivalent to the B1 level of the original GB8624-1997 or even the B1 level of the German standard DIN4102-1, etc., which will mislead the customer.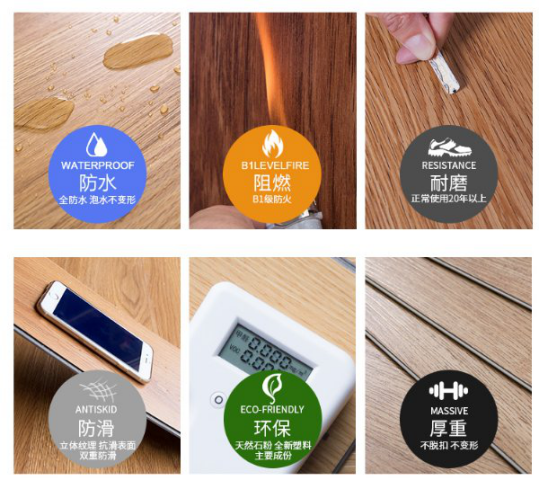 It is impossible to simply correspond between different standards. Even from the index values, Bfl and B1 are quite different. 
China's original standard GB8624-1997 is mainly compiled from Germany's DIN4102-1, but China's B1 level is different from Germany's B1 level. China's B1 level has a larger amount of smoke than the German B1 level (smoke density). ) Indicators can be said to be more demanding.

With the introduction of the new EU unified standard EN13501-1:2002, the German DIN4102-1 has been abolished.
Due to this change, China has re-programmed the new national standard GB8624-2006 with reference to the new EU standard, which divides the flame retardant grade of paving materials into A1fl, A2fl, Bfl, Cfl, Dfl, Efl, Ffl.
This is the most demanding flame retardant material standard in the world.
The critical heat radiant flux measured by the heat source method is the most critical index for the flame retardant performance of the reactive flooring materials. From the perspective of critical heat radiation flux (CHF), the Bfl level requirement of GB8624-2006 is ≥8.0KW/ M, and the B1 level of GB8624-1997 and the B1 level of German DIN4102-1 are only ≥4.5 KW/M, which is far from each other. It is only equivalent to the Cfl requirement of GB8624-2006, which is not an indicator of grade.
Therefore, Bfl cannot be confused with B1.
Get the latest price? We'll respond as soon as possible(within 12 hours)