>
>
>
What is lvt flooring?
What is lvt flooring?
The vinyl floor LVT is an elaborate vinyl covering with a film that manages to recreate the image of any surface, be it wood, stone, marble, mat or linoleum among other options. It is possible to recreate an infinity of surfaces in vinyl floor LVT.
In this article we will explore what an LVT vinyl floor is, what it is made of and what its main advantages are.
The vinyl floor LVT is called this way to differentiate it from other categories of vinyl floor for example the vinyl floor in roll. LVT comes from its name in English which is Luxury Vinyl Tile or translated into Spanish Luxury Vinyl Tile. Unlike the vinyl flooring in roll, this product is cut in tiles in the form of rectangular staves or stone-like frames to give an example.
The vinyl floor LVT is made of
A layer of vinyl counterweight
A vinyl substrate
A printed movie
A protective layer
This coating has several advantages here we will be talking about the seven main advantages that are listed below
Water resistant – LVT vinyl floor has high water resistance. It cannot be installed in wet areas such as bathrooms or outdoors. However, it can be mopped for cleaning without problem. If it becomes water if it is important to remove it so that a fungus does not form.
Easy Maintenance – The LVT vinyl floor is only swept and mopped for maintenance. It is a very friendly product that does not absorb so it does not stain easily.
Easy Placement – The only restriction for the installation of a vinyl floor is that the firm is smooth or level. Any imperfection of the sign will be shown on the floor. However, it is a very simple floor to install, it can be easily cut and it can also be attached very easily.
Recyclable – The LVT vinyl floor can be recycled to create another plastic product. At the end of its use it can be crushed and used to create another product.
Decorative – There are endless decorative. You can create a visual type wood or marble, for example. You can also create visuals like stone or linoleum. In short, the possibilities are endless.
Durable and Resistant – The vinyl floor LVT is a durable and resistant floor. It can be used in commercial or residential spaces. It is a floor that well maintained can last forever.
Low Cost – The cost of the LVT vinyl floor is very economical compared to its counterparts. We can get very real visuals of wood or marble at a fraction of the price.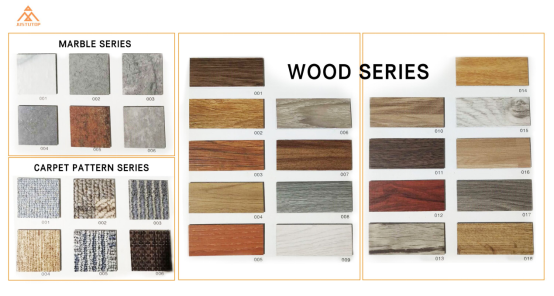 Get the latest price? We'll respond as soon as possible(within 12 hours)