>
>
>
What are the key differences between WPC floor and SPC floor?
What are the key differences between WPC floor and SPC floor?
In 2012, the LVT category was disrupted with the introduction of WPC LVT. This new product bridged the laminate and floating LVT categories by offering a rigid, strong, lightweight, easy-to-install floating floor platform that was 100% waterproof and dimensionally stable. The rigid characteristics of WPC meant the floor could be installed over subfloors with minor imperfections with little or no floor prep-eliminating the imperfections from telegraphing through to the surface. WPC floors could even be installed over ceramic tile floors without skim coating the grout lines. Consumers took notice of the wide array of solutions that WPC LVT floors provided, and sales of WPC LVT grew rapidly.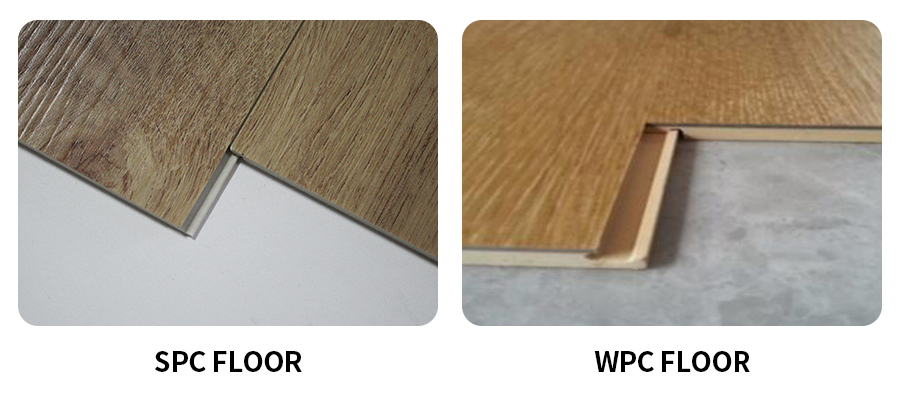 PRODUCT CONSTRUCTIONS
The typical construction of WPC products includes a composite core with a vinyl layer, a design layer, a wearlayer and a finish coat on top of the core. Many versions also include a sound-absorbing attached pad or cork underlayment, which also provide comfort underfoot. Today this construction is available in a wide range of wearlayers from 6 mil to 20 mil and greater.
This latest offshoot of composite core products, loosely referred to as "rigid core," has been named SPC (solid polymer core) by the Multilayer flooring Association. On the surface, these new products are similar to WPC products, though they are actually different in composition and construction.
The core composition of SPC products has a much higher concentration of limestone, a lower concentration of PVC and no foaming agents, resulting in a thinner, denser, and heavier core than WPC cores.
The construction of SPC products is much more similar to a traditional laminate, in that the vinyl layer found between the core and the design layer on WPC product is eliminated. Instead, the design layer is thermofused directly to the core, a wearlayer protects the thermofused design layer, and a finish is applied for stain and scuff resistance. As with WPC, an attached underlayment can also be added for sound absorption and comfort improvement.
KEY COMPARISONS
Both SPC and WPC are waterproof, hide subfloor imperfections and can be installed without acclimation and in large rooms without expansion gaps.
WPC offers a vinyl layer between the design layer and core for resilience and comfort underfoot, while in SPC products, the design layer is adhered directly to the core. The construction allows for deeper embossing in WPC products.
WPC's core is foamed, adding air to the core to reduce weight, while SPC is up to 75% limestone with no foaming agents, making it more dense than WPC-and also more difficult to cut. Foamed cores are softer underfoot, warmer and quieter than the cores with high limestone content, whose relative density provides higher impact and dent resistance. Generally speaking, this makes SPC more suitable for commercial environments.
Compared to WPC, SPC floors are less expensive, and the market appears to be embracing them as an entry-level product among composite core floors. And at the same time, several manufacturers are experimenting with different constructions, different thicknesses, various underlayments and innovative surface layers. Some will succeed, and some will fail; but one thing's for sure-each will come with a unique acronym.
Get the latest price? We'll respond as soon as possible(within 12 hours)