>
>
>
Why are more and more spc floors replacing tiles?
Why are more and more spc floors replacing tiles?
In hotels, hotels, shopping malls, supermarkets, schools and other places, the vast majority of the original paving materials are ceramic tiles. Now, with the change of concept, more and more SPC floors appear.
So, what is the difference between ceramic tile and SPC floor? Why do they choose to install SPC floors ?
1)Construction and installation
Ceramic tile is very heavy, installation is more laborious, and it is difficult to remove after installation, can not be reused.
The stone plastic floor is light in texture, simple in installation, free of dust and noise. It can be directly paved on the original ground without compressing the space, so it is very suitable for the reconstruction of old buildings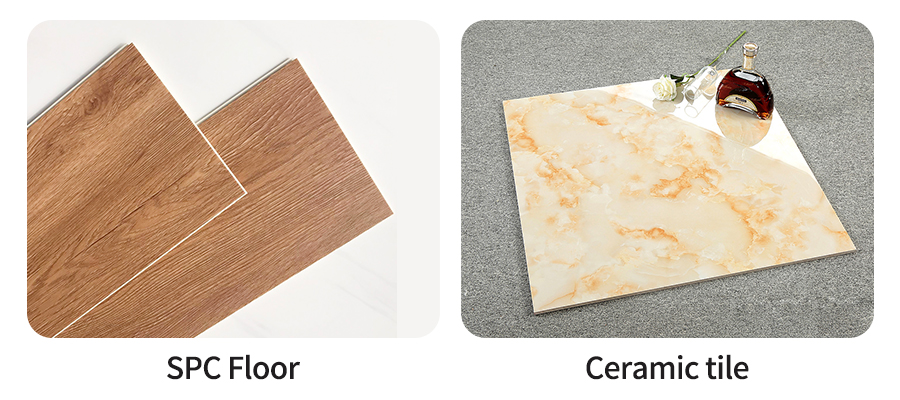 2)Anti skid feel
The foot of ceramic tile feels cold and hard, barefoot is easy to catch cold when stepping on it. And the skid resistance is not good, it is easy to fall. Especially in children's play space, like running and jumping is the nature of children, running on the tile floor is very unsafe.
SPC floor feel comfortable and rebound, walking can effectively slow down the impact of human knee, accidentally fall, its resilience also has a certain supporting role. The ground with children or old people walking is especially suitable for laying PVC floor, which can protect them from slipping injury.
In rainy and snowy weather, it is very safe to walk on the ground with SPC floor. Its anti-skid property is astringent when meeting water, which can avoid slipping and falling injury and accidents
3)Sound absorption
In contrast, ceramic tile sound absorption is poor, and SPC floor can effectively absorb noise, suitable for use in library, office and other places that need quiet.
Get the latest price? We'll respond as soon as possible(within 12 hours)