>
>
>
Why UTOP spc flooring is the best choice?
Why UTOP spc flooring is the best choice?
SPC flooring is an upgrade of Luxury Vinyl Tiles (LVT). It is special designed with "Unilin" click locking system. So, it can be easily installed on different floor base. No matter laying them on concrete ceramic or existing flooring.
1.Waterproof: SPC flooring stands for Stone Plastic Composite. Known for being 100% waterproof with unparalleled durability, these engineered luxury vinyl planks use advanced technologies to beautifully mimic natural wood and stone at a lower price point. SPC's signature rigid core is virtually indestructible, making it an ideal choice for high-traffic and commercial environments
2.Fireproofing: SPC flooring has antiflaming function, 5 seconds could self-extinguish. Qualified SPC floor reaches excellent B1 of fire-prevention index; in case of accidents,zero choking harmful or poisonous gas generates
3.formaldehyde free: spc flooring is 100% environmental protection floor without any hazardous substance, like heavy metal and formaldehyde.
It is the best choice that the family decorates material, spcail good for baby. In the past two years, more and more families, schools, kindergartens and other places choose SPC flooring.
4.Stronger: It is stronger than WPC floors and laminate. Instead of using wood stone is used with a silica core resulting in a flooring material that is made from waterproof ingredients to begin with. SPC has 20 (yes, TWENTY) times as impact resistant than base laminates and 10x impact resistance of WPC (wood composite core) flooring. Stone Polymer Composite flooring a.k.a. SPC Floors are also fire resistant.
5. Best price: SPC flooring is a great choice for waterproof flooring. If you don't want to spend a lot of money but still want a high quality floor, SPC laminate floors are a great choice. The SPC floor has five layers that make them simple to install and provides a realistic look for less.
Covid-19 period , Please pay attention to the safety and health of you and your family!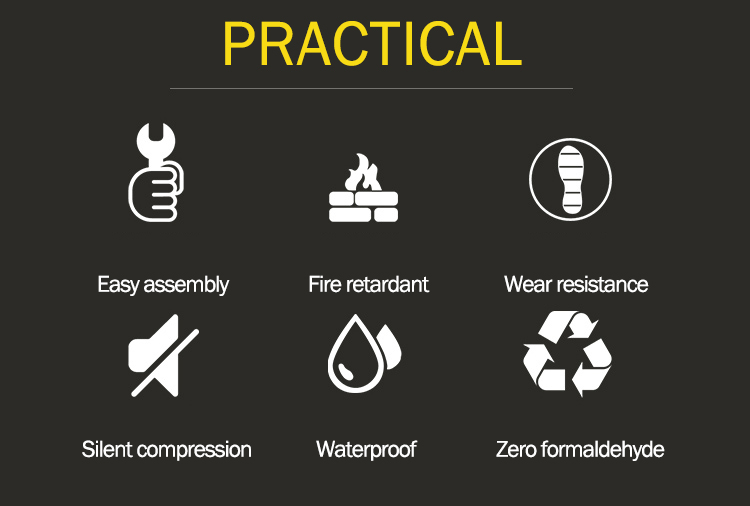 Get the latest price? We'll respond as soon as possible(within 12 hours)